Remember that a dog must fit into your lifestyle. They need to be part of the family and you should not have one if you haven't sufficient time to give it. A lot of thought must be given to the matter before you go ahead. Have you the time? The money? The patience? The lifestyle? Think long and hard, as a dog is a big commitment.

If you do decide that a Cavalier would fit into your household, you will be rewarded with the most wonderful companion!!

A Cavalier should always be wanted primarily as a companion, even one being purchased to show and perhaps later breed.
Never buy a puppy unless you see it with its mother and litter.
"Dogs are not our whole life, but they make our lives whole"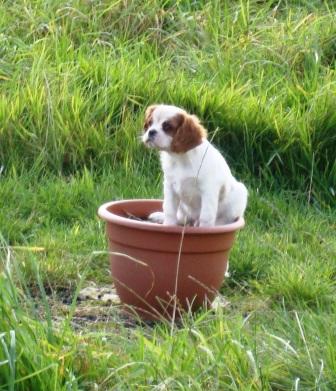 Bailey


* Breed Standards *
The head should be nearly flat between the ears, with a well defined nose.
Eyes should be large and round which gives them their characteristic endearing look.
Tail should be well feathered.
Neck is strong and slightly arched.
Ears are long, drooping with plenty of feathering.
Their bodies should be small, well-balanced and move with an elegant gait.
Paws should be compact and feathered.
* Male or Female? *
Both males and females are equally sweet natured and affectionate but some people do not want to be bothered with a females seasons, but they are only in season once in every six months.
Similarly males do like to mark their territory, so you will have to be persistent with toilet training.
There are advantages and disadvantages in both but you will usually find there are more male puppies available as breeders tend to keep their females to breed from.

Cavaliers are generally good eaters and the adult dog will only need one feed per day. Many Cavaliers get fat; this is due to the fact that they do have the most demanding eyes! These eyes can convey feelings to you and the most difficult to ignore is the 'I love you and I would love something to eat'. Too much weight is very bad for your dog.